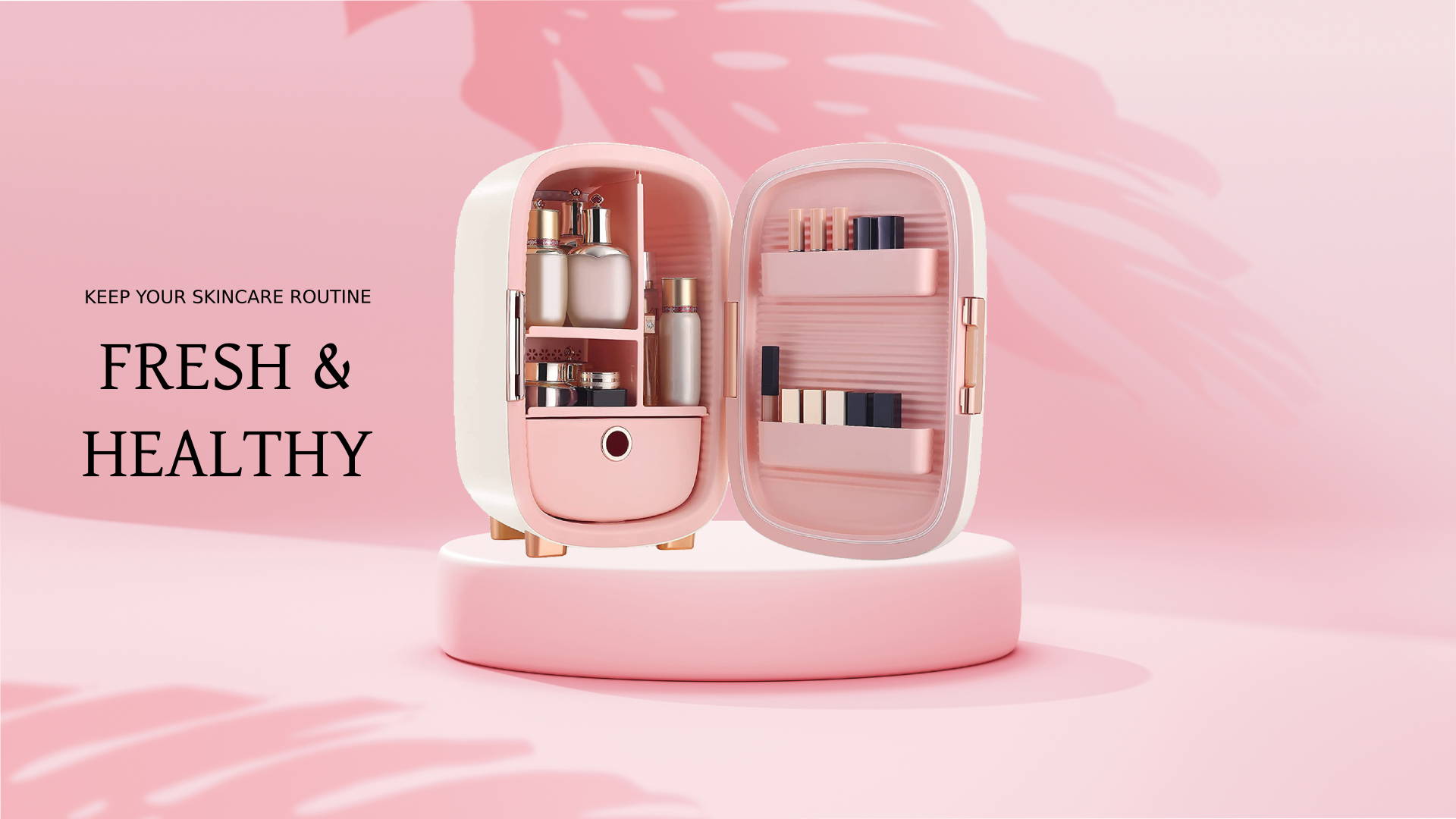 Where Beauty Meets Technology
Introducing PinkTop Cosmetic Fridges, your ultimate solution for preserving the potency and freshness of your cherished skincare and beauty products.
Our innovative fridges are designed to keep your cosmetics chilled, extending their shelf life and ensuring every application is a delight.

Why Use Cosmetic Fridges?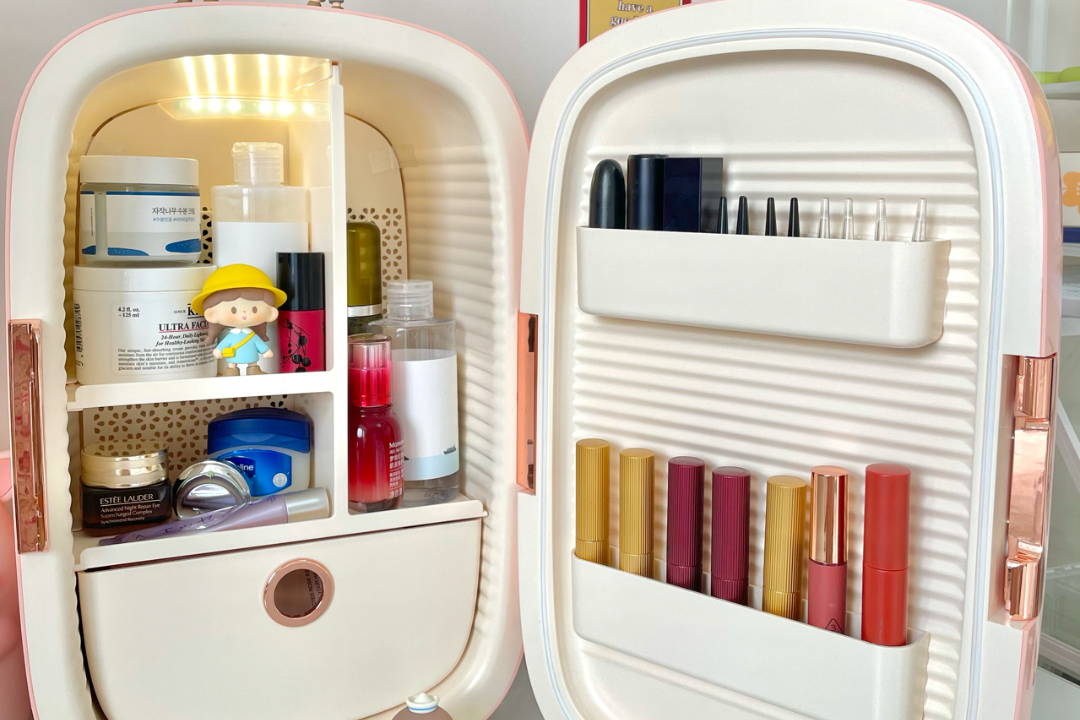 Elevate Your Beauty Routine
Say goodbye to the deterioration of your beauty products. From night creams to nail polishes, PinkTop Cosmetic Fridges provide the ideal environment to store your beauty essentials, allowing you to experience the full benefits with every use.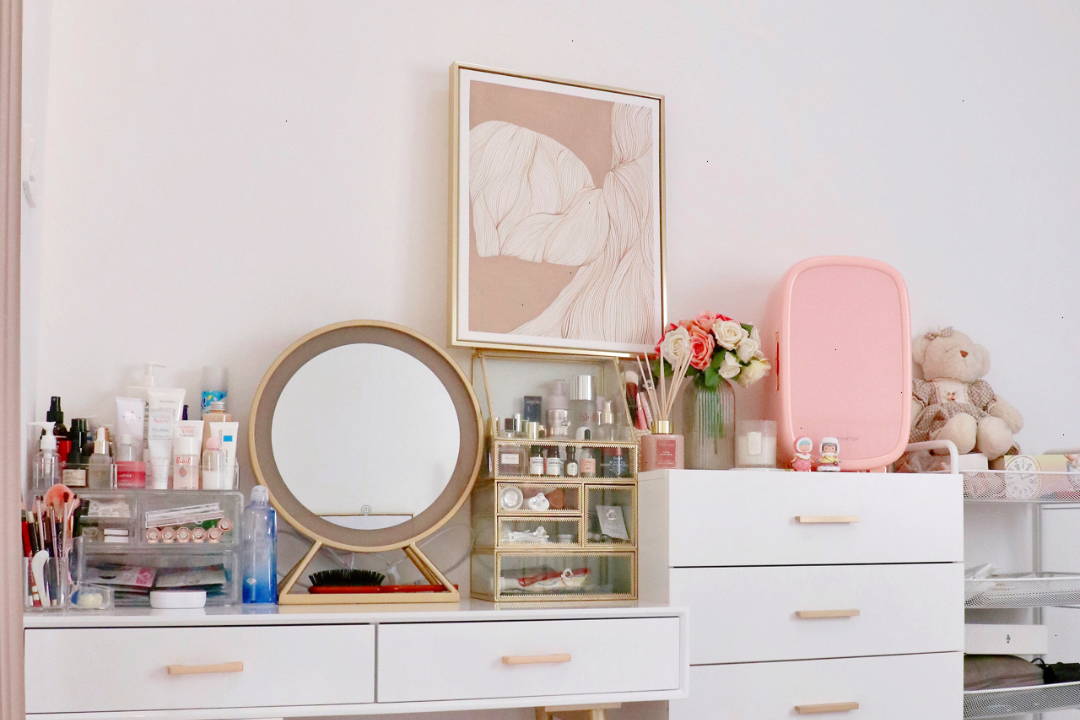 Unveiling Elegance and Efficiency

PinkTop specialises in crafting high-quality and effective beauty fridges that seamlessly blend functionality with sophistication. Our fridges not only maintain optimal storage conditions but also offer a chic and feminine aesthetic that complements any space.


Why Do You Need a Cosmetic Fridge?
PRODUCT PRESERVATION
Shield your precious products from degradation, especially those free from preservatives, parabens, and sulfates.
EFFORTLESS ACCESS
Conveniently reach for your chilled skincare and cosmetics products exactly when you need them.
COMBAT BACTERIA
Prevent the growth of fungaland bacterial organisms fromgrowing and festering within the product
SOOTHING COOLNESS

Experience the immediate relief of reduced swelling and itching through the application of cold skincare and cosmetics.
What Can You Put In Your Fridge?
✦ ORGANIC/NATURAL SKIN PRODUCTS
✦ ANTI AGING PRODUCTS CONTAINING RETINOIDS
✦ VITAMIN C BASED PRODUCTS
✦ SHEET MASKS
✦ HYDRATING MISTS
✦ PERFUME
✦ EYE CREAMS & GELS
✦ GEL MOISTURISERS/BALMS
✦ FACIAL ROLLERS
.. AND SO MUCH MORE!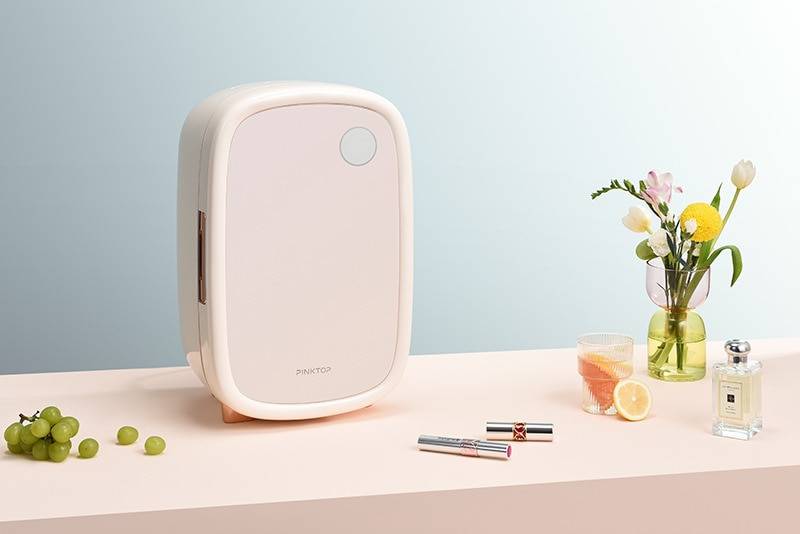 Why Everyone Is Obsessed with the Cosmetic Fridge?
If you value skincare and beauty products, you'll know that they don't come cheap and they seem to lose their effectiveness easily when not properly stored.
Skincare and beauty products do go bad or dry up quite often. Whilst some products can be kept at room temperature, there are many that should be kept refrigerated to keep their efficacy high.
PinkTop has an efficient design and a size large enough to store your skincare and beauty products that require refrigeration, you'd be thrilled to know it looks cute and dainty as well!
Keep your beauty products safe, long-lasting and conveniently within reach when you need them with this cute and feminine skincare fridge.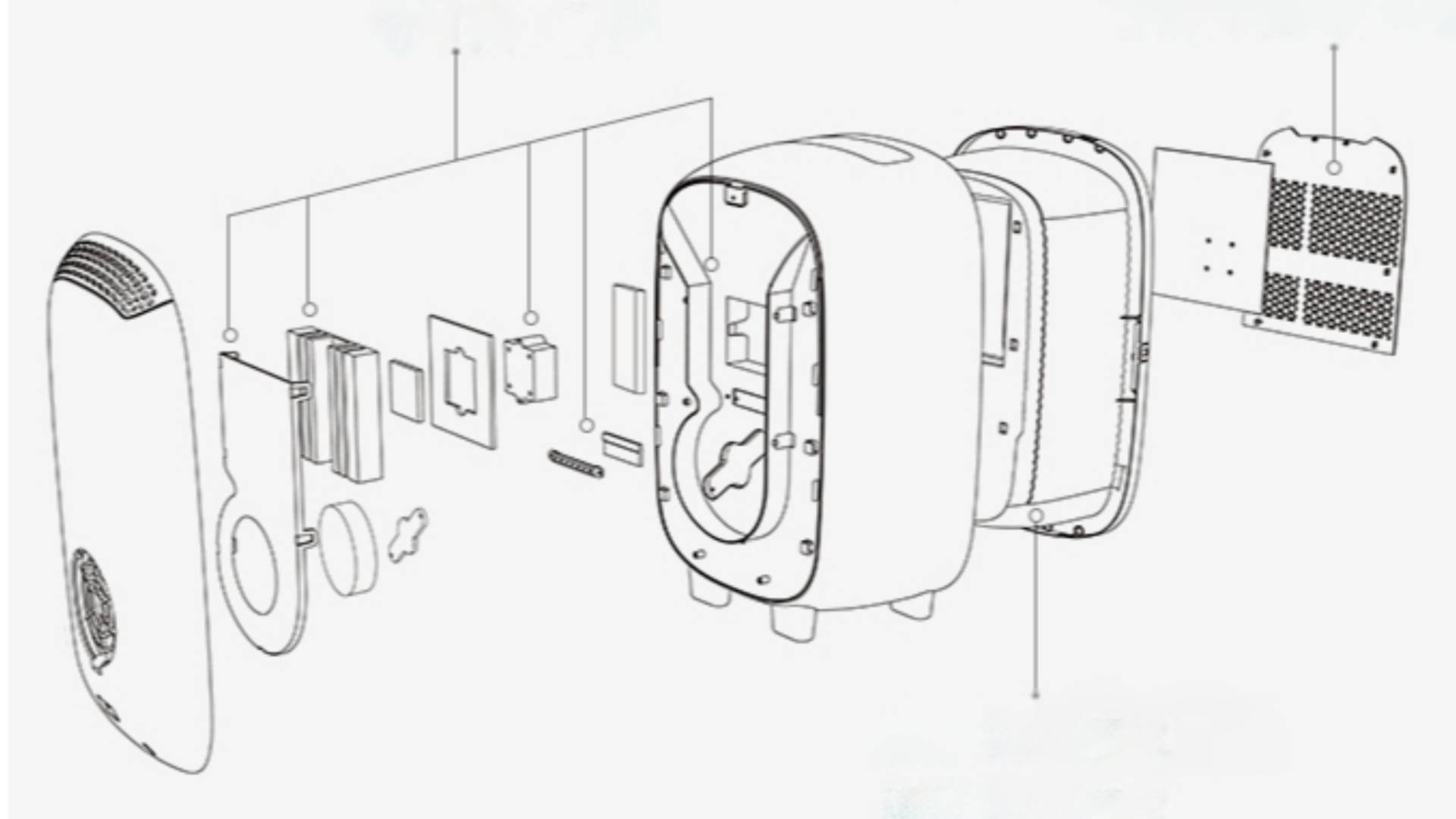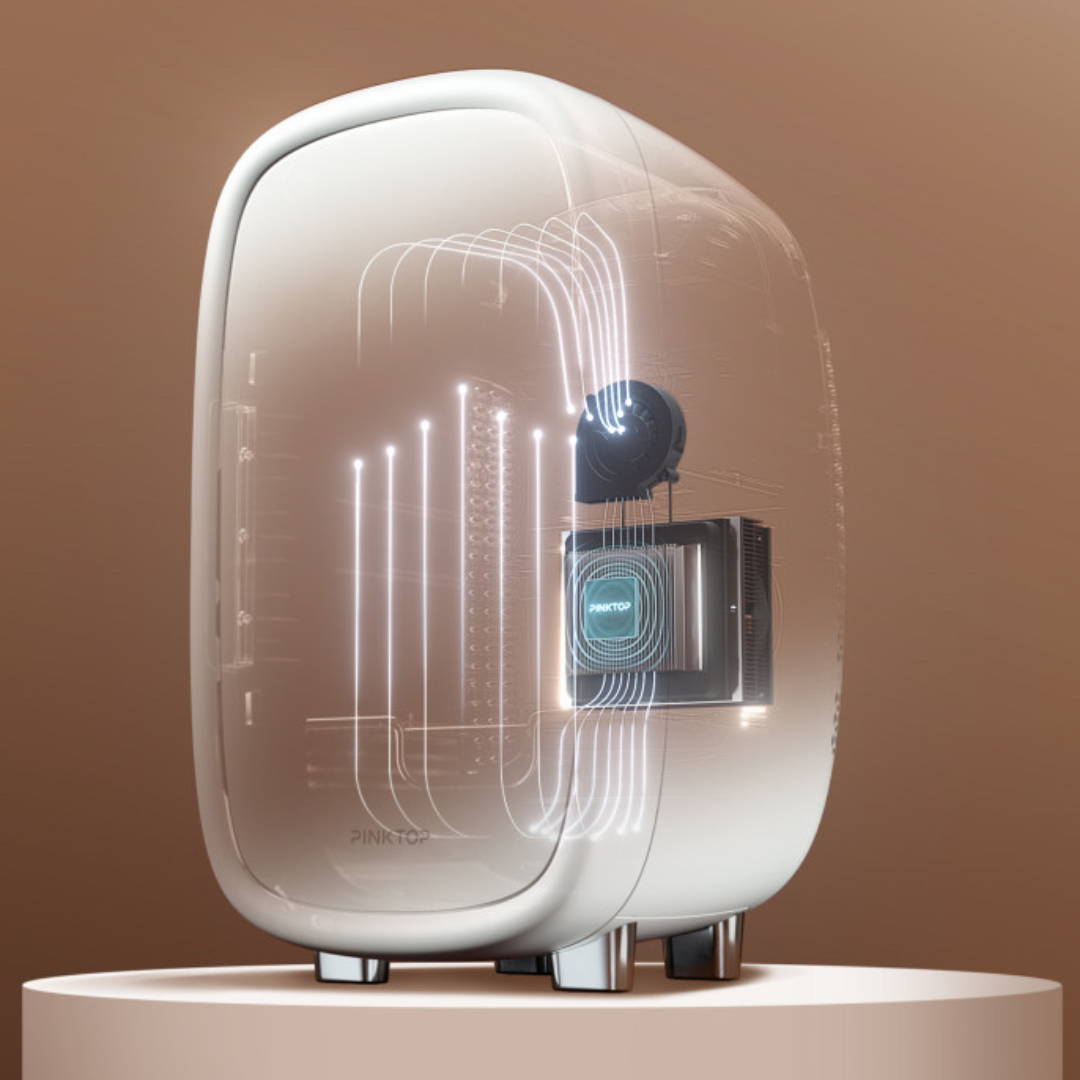 The air cooling technology helps to regulate the internal temperature within the fridge to keep it at an optimal storing temperature for your skincare and cosmetic products.

With a dedicated sleep mode, the fridge would be noiseless and quiet throughout the night, you don't have to worry about noisy spinning fans that other brands have. (Only in 13L design)

With an internal condensation cycle taking place, the dust will stick to the water molecules and be steadily removed when the fridge is closed to reduce the amount of impurities within.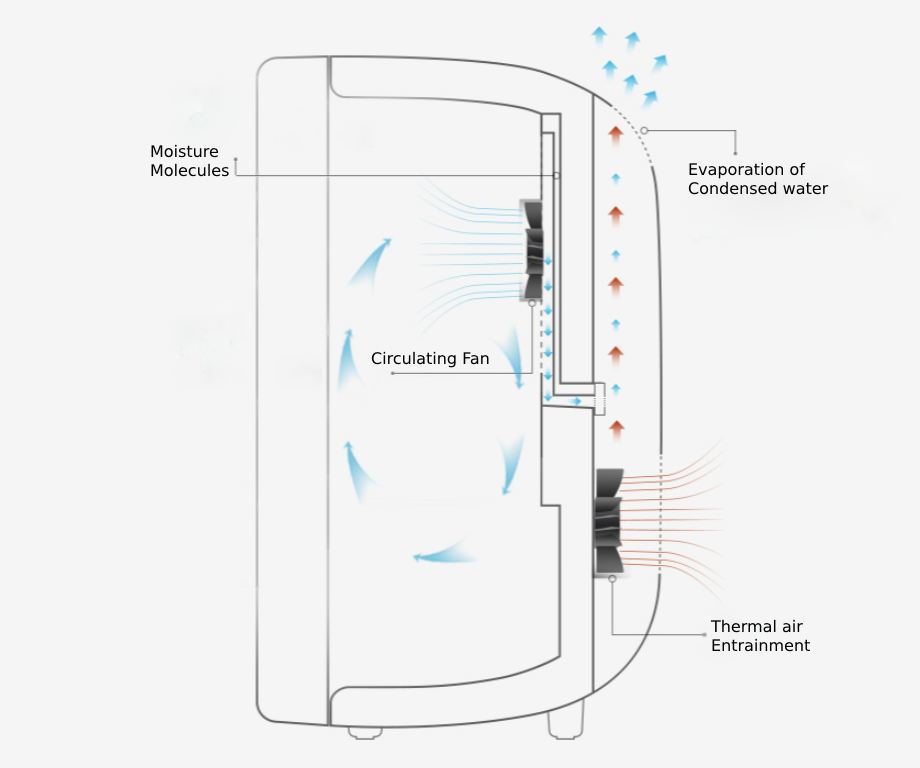 With a moisture removal system based on evaporation and the thermal entrainment, moisture is kept low to optimise the storage of your cosmetics and beauty products in a low humidity environment.
MULTIPLE STORAGE SECTIONS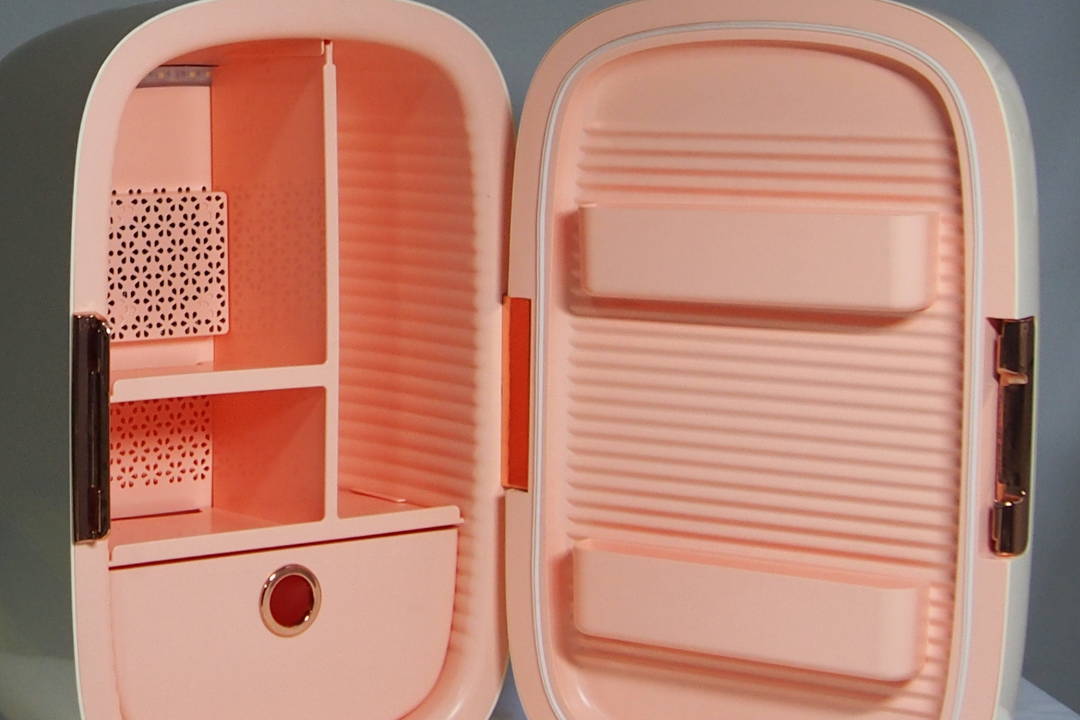 STABLE TEMPERATURE MONITORING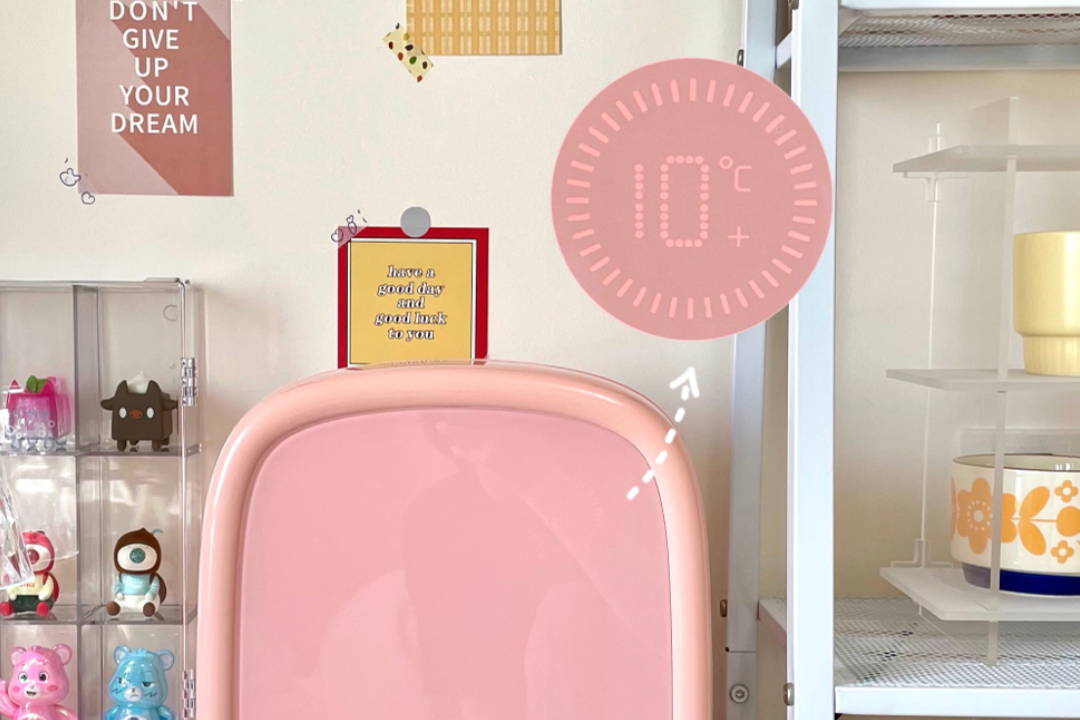 INTERNAL FRIDGE LED LIGHT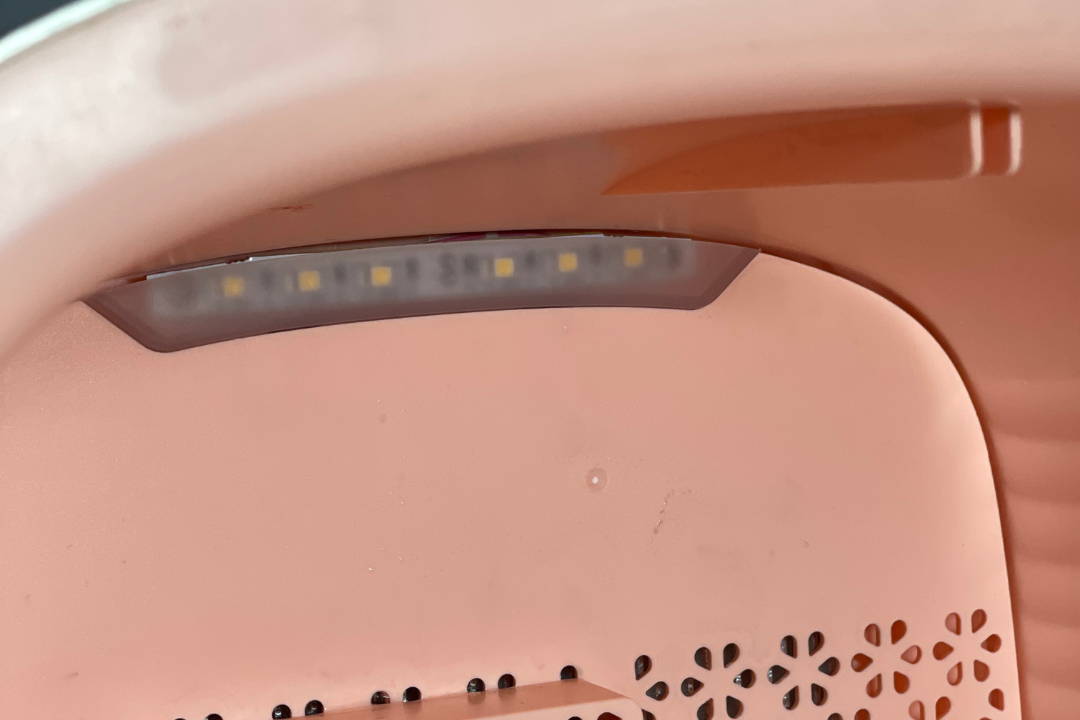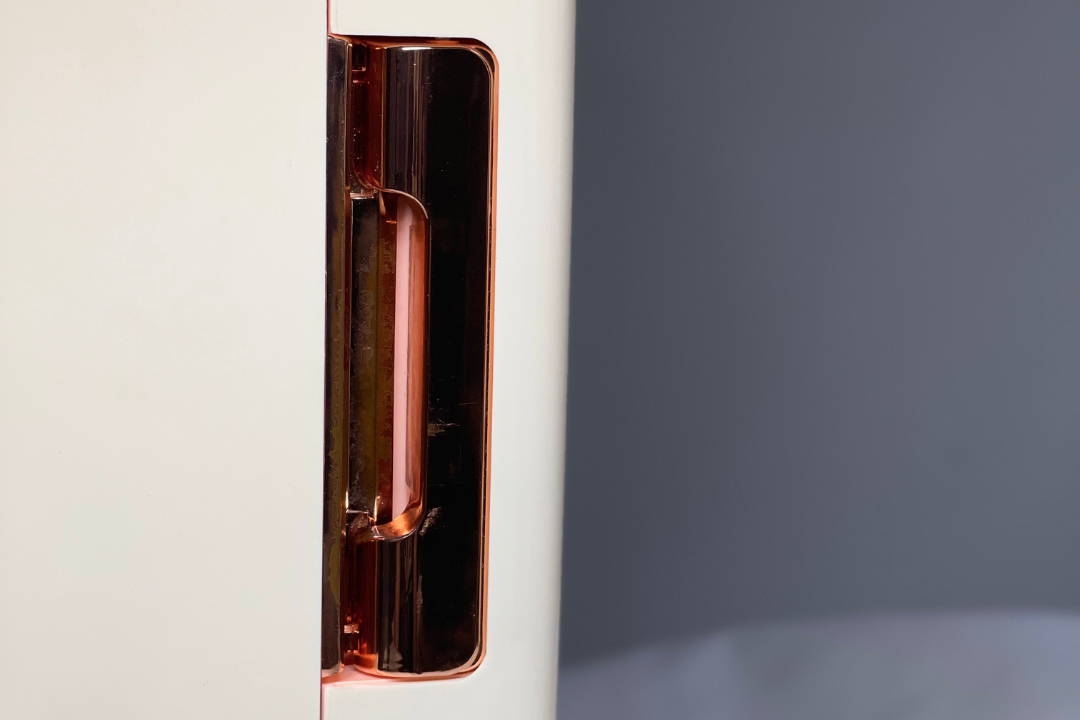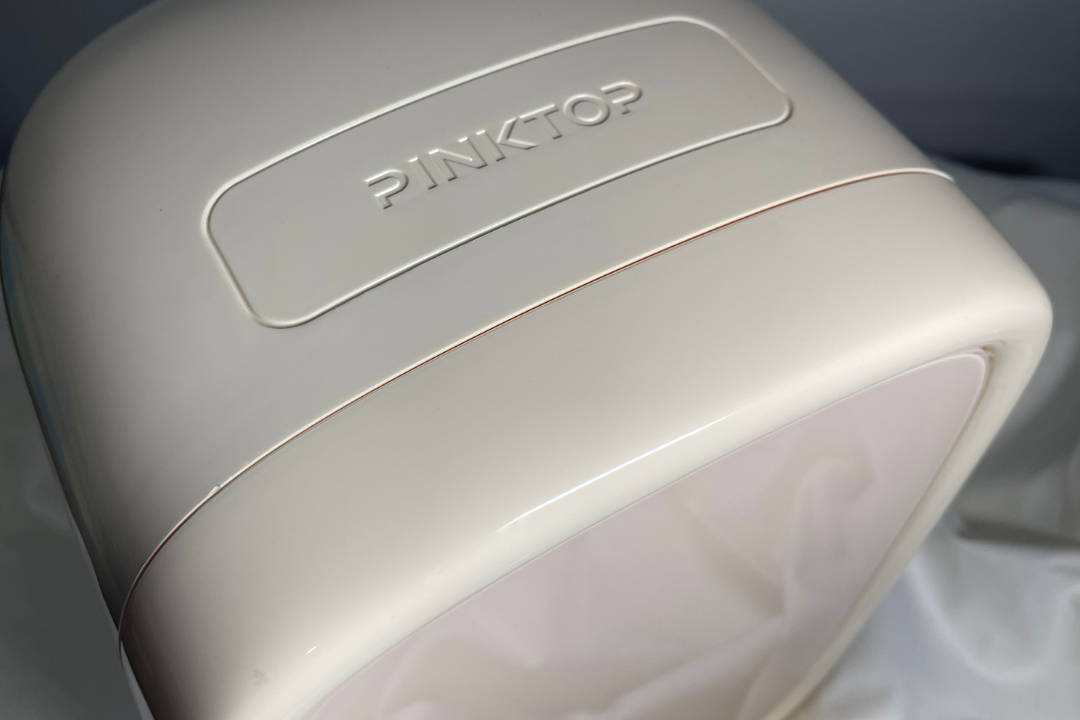 ELECTROPLATED FEET WITH ANTI SLIP PADS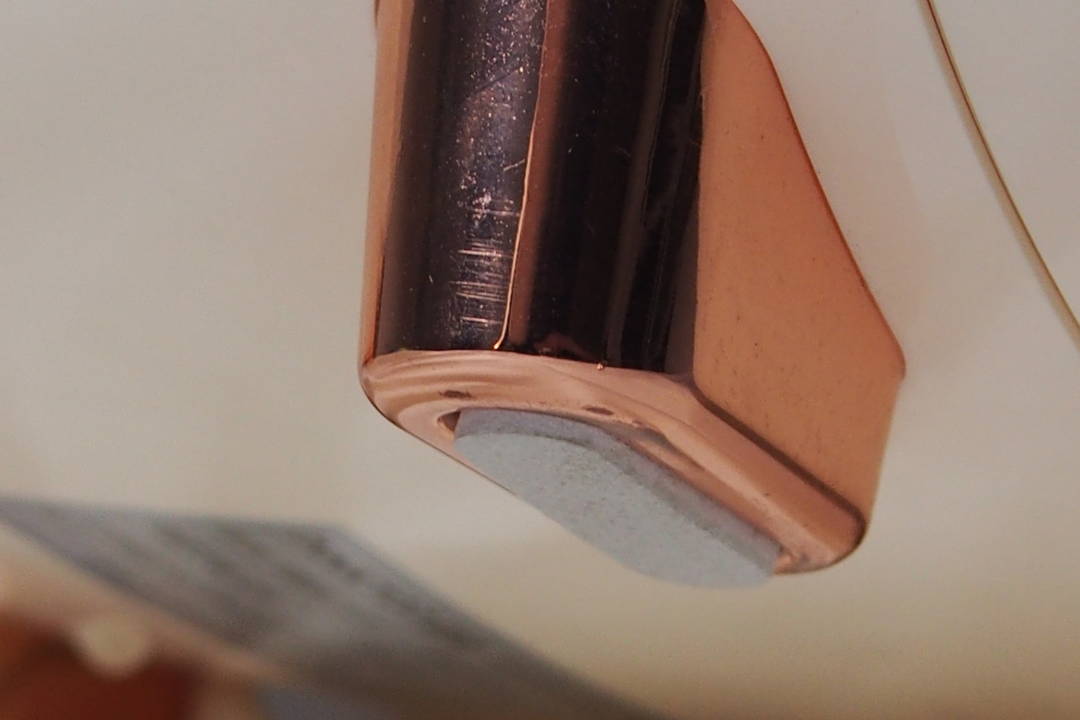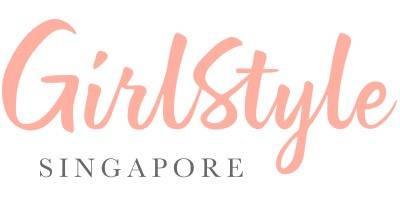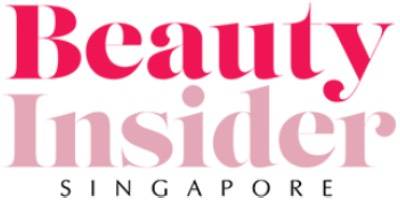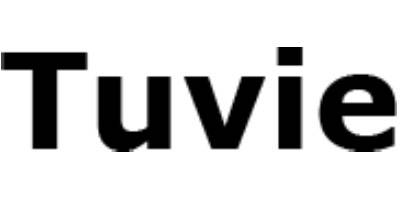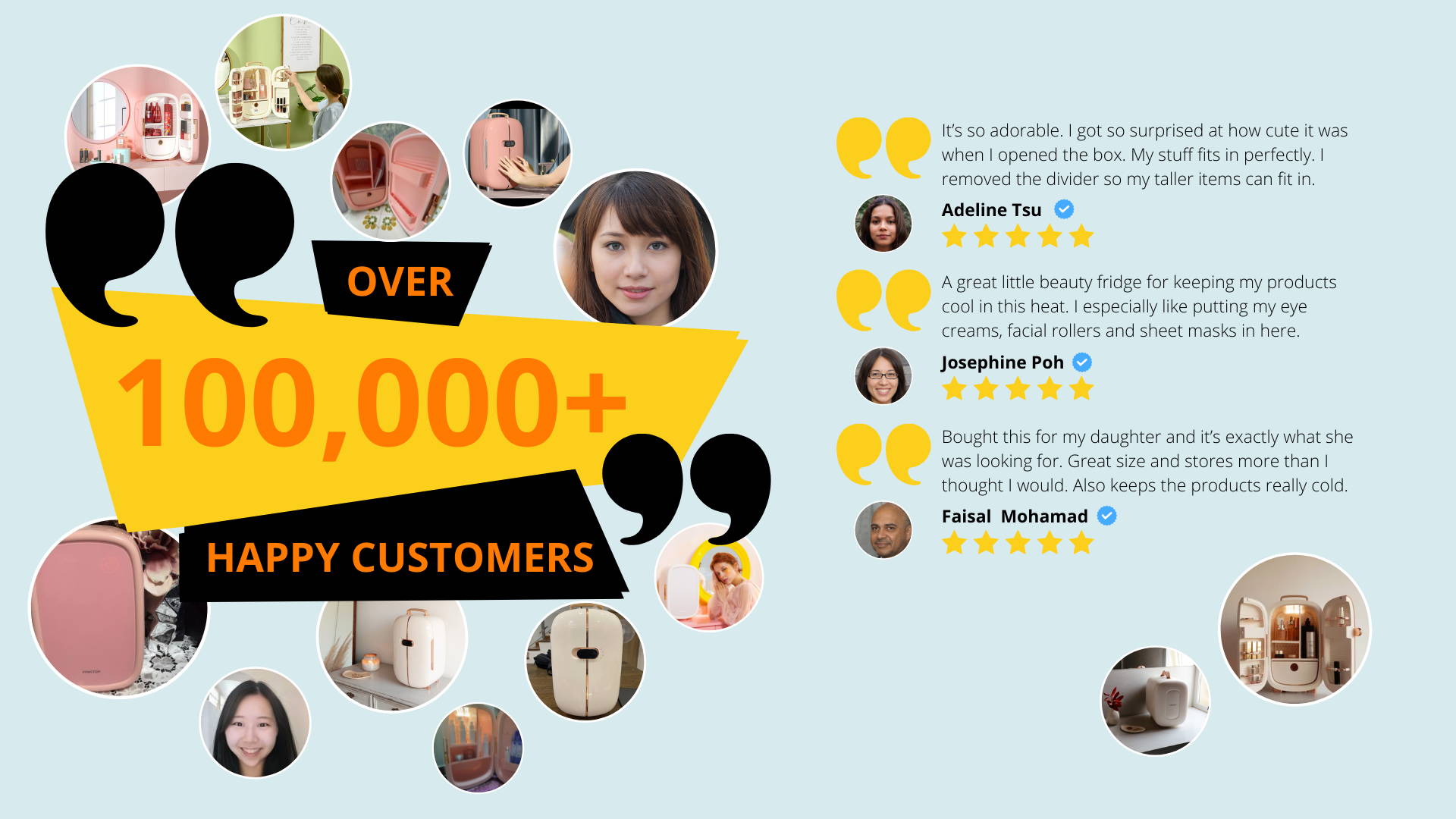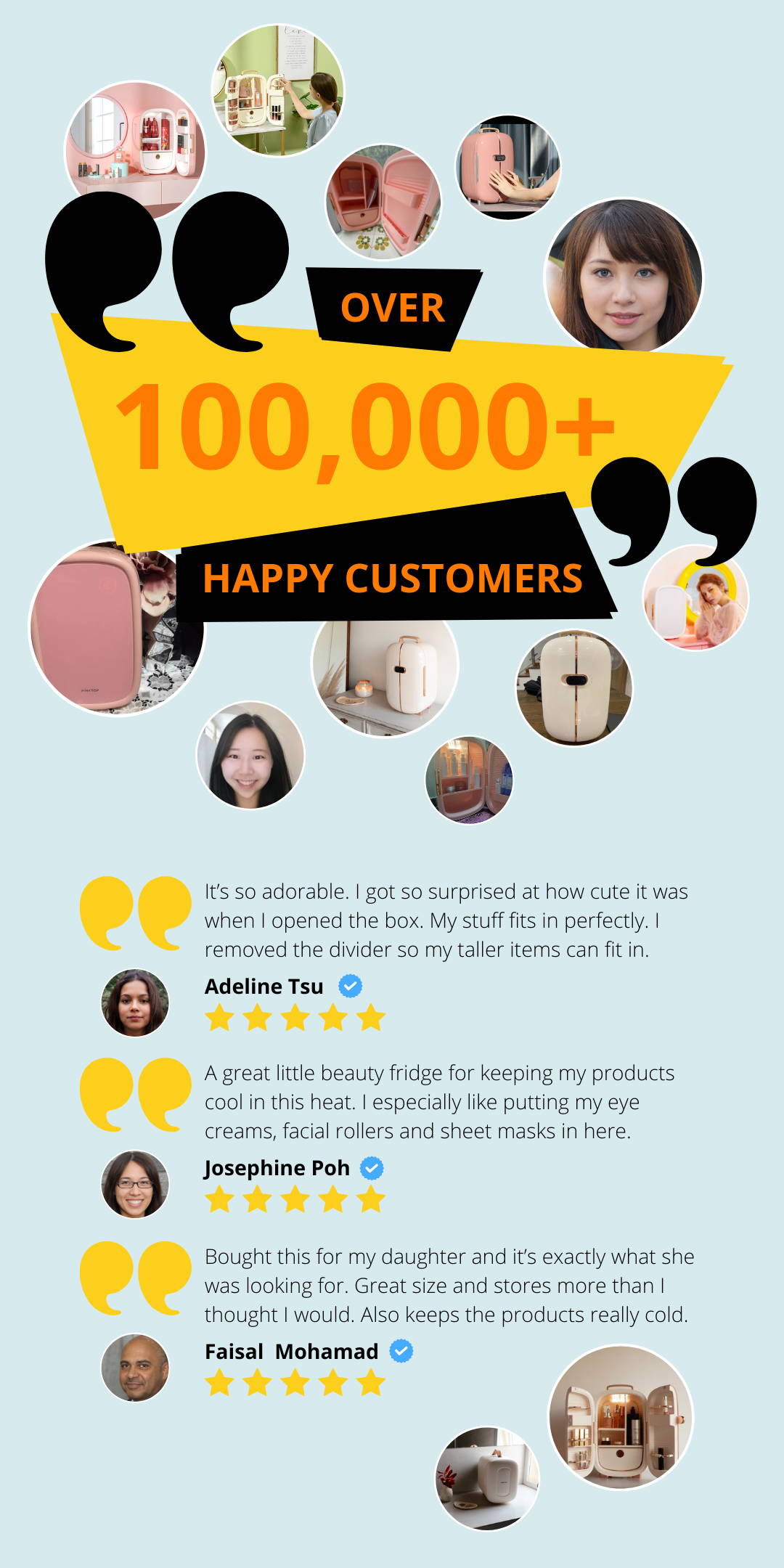 What is so special about PinkTop?
PinkTop is the most efficient mini fridge in Singapore catered to your beauty products! They focus on creating high quality and effective beauty fridges, while maintaining a feminine and chic look.

What is the point of a mini fridge for your skincare products if you can just put it in your regular fridge?
The temperature of a regular fridge is too cold for your skincare products and can lead to improper storage instead. The optimal storage temperature for skincare and makeup products is 10°C - 18°C. However regular fridges maintain a temperature of 1°C - 4°C instead.

This might cause damage to your skincare and makeup products as certain ingredients might start freezing over at such a low temperature.
To start using PinkTop cosmetic fridges, you have to plug the power head into any power source and power on the on/off button at the back of the fridge for it to start operating.
Can I keep it plugged in or do I have to plug it in every time I want cold products?
There is no automatic shut off. PinkTop runs permanently while connected to a power supply and switched on. Please make sure not to switch settings abruptly from one operating mode into the other.
How long does it take to start cooling your products?
PinkTop will start to cool down immediately once plugged into a power source and can take up to 2 hours to cool down to the lowest temperature.
I've used other mini fridges before and they were loud. Is this fridge noisy?
This fridge is quiet and does not produce any loud noises. After tons of testing, we made sure to equip all of our mini skincare fridges with the quietest fans.
Where can I store my skincare fridge?
We recommend storing PinkTop in a dry and flat surface away from any other sources of heat, direct sunlight, humidity and liquids, and sharp objects.
How should my skincare fridge be set up?
To allow for proper ventilation and usage of the product, we recommend keeping a 10 cm area clear around the whole device. Do ensure that no ventilation holes are blocked.